Welcome to
The UK Silver Exchange
We were established in 1988 and have an enviable reputation within the silver trade for honesty, integrity, the highest level of customer service, competitive prices and quick payment.
We treat all clients in a fair and friendly manner. We hope you enjoy browsing our web-site and look forward to hearing from you if we can be of service.
16/7/2019: Silver Prices
London Midday Price - 15/7/2019
12.21
£/tr.oz
39.26
p/gm
UKSE 925 Buying Prices
100 to 500 tr.oz. (3 to 15kg)
10.45
£/tr.oz
33.59
p/gm
10 to 100 tr.oz. (0.3 to 3kg)
9.88
£/tr.oz
31.78
p/gm
We offer higher rates for more than 500 tr.oz. (15kg)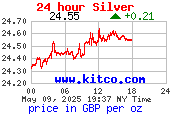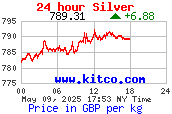 Free Quote
Call today on : +44(0)1594 546328
or Email:
enquiry@uksilverexchange.co.uk
Featured Stock
We hold a vast amount of antique silver stock. These are a selection of our current featured pieces.
View more
Buy
Sell
Antiques
Silver Exchange
The rising value of silver as a metal has had a huge impact on the antique silver market. The antique and aesthetic value of many articles has been overtaken by its intrinsic metal value. The simple economics mean that many good pieces of silver are consigned to the melting pot.
For many people involved in the antique and second-hand silver market, this scrapping of good quality items goes against their principles - as we are often told - "they can never be replaced". We have devised a silver exchange scheme to at least give some items a second chance.
Any articles of merit passing through our business are not automatically scrapped.
Latest News
What Do We Buy?
Bullion Silver (bars or grain)
Hallmarked scrap silver
Foreign scrap silver
Antique and second-hand silver
Medical silver
Electronic components
Silver Plate (quantities over 50kg)
Gold in all its forms
Gold plate
Platinum and other platinum group metals (eg palladium)
Read more