We Buy Silver
We buy all grades of silver:
Bullion silver (bars or grain)
Hallmarked scrap silver
Foreign scrap silver
Antique and second-hand silver
Medical silver
Electronic components
Silver Plate (quantities over 50kg)
Gold in all its forms
Gold plate
Platinum and other platinum group metals (e.g. palladium)
20/6/2019: Silver Prices
London Midday Price - 18/6/2019
11.88
£/tr.oz
38.20
p/gm
UKSE 925 Buying Prices
100 to 500 tr.oz. (3 to 15kg)
10.16
£/tr.oz
32.68
p/gm
10 to 100 tr.oz. (0.3 to 3kg)
9.62
£/tr.oz
30.92
p/gm
We offer higher rates for more than 500 tr.oz. (15kg)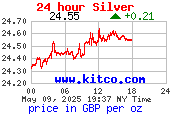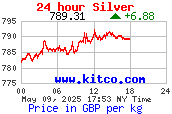 Trade services
We specialise in servicing the trade for all their silver requirements.
We will pay the very best market prices for your silver, with even higher rates available for quantities over 500 tr.oz., over 1000 tr.oz. and over 3000 tr.oz. Please enquire for more information.
To allow trade clients the opportunity of capturing the peaks of the market, we offer:
metal account facilities
forward selling
stow away services
To maximize your profit margins we pay VAT on top of the price (for more information see section to right).
Trade visits
We welcome appointments by antique dealers and retailers to view our ever changing stock of silverware.
You can visit to:
Sell scrap and redundant stock
Buy fresh stock
Exchange old stock for new.
Retailers and dealers alike can take full advantage of our high scrap prices with the satisfaction of knowing that they are not necessarily sealing the fate of the articles as scrap. In addition, they can trade in redundant silver stock or genuine scrap for fresh stock.
Much of this stock is available for just over scrap prices (silver exchange section). Our main business over the past 20 years has been supplying the retail trade with silver stock, so we know the types of items that are in most demand and maintain a healthy stock to feed this requirement. We also have a large range of top quality antique hollowware, flatware and collectables available at trade prices.
Scrap
What constitutes scrap?
Our scrap silver rates are for clean 925 grade silver (92.5% pure). We will also accept 1st Standard French, Dutch,Danish, Austro-Hungarian and Russian within this category, plus USA, Canadian, NZ & Australian items marked "Sterling".
The silver must be "clean". That means there are no non-silver elements (e.g. wooden handles, resin filling etc). If preferred, we can remove these impurities for you.
We also buy lower grade silver, such as 800 standard, foreign silver and 500 standard coins, and payout proportionate to the 925 rate.
What articles are considered to be "scrap"?
Articles that are now valued purely on their metal value (i.e. by weight) include: most 20th century hollowware (e.g. tea sets, trays, cups, bowls, mugs, baskets, dishes, napkin rings, condiment sets, cigarette cases, boxes etc), jewellery (heavy chains and pendants), virtually all 19th & 20th C flatware (spoons and forks), damaged, worn or repaired items.
We salvage all items of merit from the scrap and include them within our silver exchange scheme.
Antique Silver
The rising value of silver as a metal has had a huge impact on the antique silver market. The antique and aesthetic value of many articles has been overtaken by its intrinsic metal value.
Many antique and second-hand silver items are now valued by their metal content (i.e. weight) and their value will fluctuate in accordance to the day's silver price. We buy many antiques in this way, but will not necessarily scrap them as we use them as part of our silver exchange program.
Items of particular interest will be valued above scrap rates or on their own merits as an antique.
If you are unsure whether your item would be considered "scrap" or antique, then please see our antique silver pages for more information.
Processing
The vast majority of the silver we receive is clean (no contaminants), appropriately marked for purity and can easily be weighed. Items with non-silver elements (e.g. handles, enamel, filling etc) are included within this category. We can remove the non-silver elements for you and would actively encourage you to especially leave tea and coffee pot handles in situ!
Unmarked silver or items with an unknown purity will be XRF tested to provide the level of purity.
We buy dirty silver (with difficult to remove contaminants) either by making a fair judgmental offer or for larger quantities we offer a Melt & Assay service. This service is also available for gold and gold plate.
How to sell
You can either deliver the silver by hand or by post.
For delivery by hand
Please make an appointment by telephoning 01594 546328 or emailing enquiry@uksilverexchange.co.uk
For sending by post
We suggest using either Royal Mail Special Delivery (quantities under 20kg) or a carrier such as Parcelforce (via the post office), UPS or DHL. Please send to:
UKSE
3/2 Vantage Point
Mitcheldean
Gloucestershire
GL17 0DD.
The silver will be weighed on receipt and a price given according to the above quantity rates on the next fix. Please provide your name, address, telephone number and email address. Read our 'payment terms' outlined on the right.
Should you not wish to sell on the next fix, you must inform us by telephone before 10.45am. You may be interested to read our 'stow away service' information on the right.
Free Online Quote
Buying Price
-
We can provide instant quotes for your silver based on the current spot or fix prices, but these are subject to change according to variations in the market.
Silver received in the post will be priced according to the advertised website quote at the time of receipt. If you would prefer not to sell at that particular price, you must inform us before 10.45AM. Your items will then be kept until we are informed to sell (see stow away service).
Our highest prices are based on the LBMA midday silver fix and are only applicable for quantities in excess of 500 tr.oz. (15kg). These prices are tiered for levels of 500oz+ (15kg), 1000oz+ (31kg) and 3200oz+ (100kg). These higher rates are available to clients who either have metal account facilities with us or have delivered the silver in advance. The silver must be sold before 10.45AM and will be based upon the next midday fix.
VAT
+
If you are a VAT registered business then it makes sense to sell the silver as a metal. We pay out the full rate of 20% on top of the net value. In order to do this we require some form of suitable proof and a valid VAT number. The VAT should be declared in the same manner as any other full VAT sale.
Perversely, for antique dealers on the margin or global accounting VAT schemes, it is actually beneficial to sell metal rather than an article. If sold as a metal you will receive the entire sold value of the item and declare the VAT in your returns. If sold as an article, you would pay VAT on your profit and therefore actually receive less gross profit! So unfortunately there is a financial inducement for silver dealers to scrap, rather than deal in articles.
If you are a member of the public or a non VAT registered business, then we will pay out the net amount without the extra VAT.
Payment Terms
+
For quantities less than 100 troy ounces (3100grams) we generally pay out by return. For quantities over 100 troy ounces, we will make payment within 3 working days.
We will pay by cheque, unless an electronic bank transfer is preferred. For the former, please provide payee name and address. For the latter, please provide your address details and bank account details (sort code and account number).
New legislation is passing through the House of Commons to make it illegal to buy scrap metal for cash and without documentation. We are strong advocates of this new legislation and are therefore ready for its introduction - we do not pay by cash and provide pay out sheets with all sales.
Metal Account
+
Metal account facilities are available for regular clients. Silver can be sold from this account at any time during normal working hours. An account can be topped up with fresh metal deliveries by appointment and sold when the price is right. Account holders will receive regular statements and have the ability to forward sell.
Forward Selling
+
Regular clients can forward sell in anticipation of the next fix before 10.45AM. This is a binding contract and if the silver is not in an existing metal account, then the silver must be received within three to five days depending upon quantity. Forward selling in excess of 3200oz (100kg) must be received within 24 hours.
Stow Away Services
+
As an alternative to a metal account we offer our unique and popular Stow Away service. This service will safeguard you against a sudden overnight drop in price. If you have posted goods to us and there is an overnight drop in price you can phone/email us before 10.45am and ask us to hold off selling. We store your silver in a temporary metal account until such a time that the price is right for you. All you then need to do, is phone/email us before 10.45am on the day you wish to sell.
The Stow Away Service is only available to trade clients for quantities in excess of 100tr.oz or 3kg.