We Sell Silver
We sell the following forms of silver:
Bullion silver
Antique & second hand silver (prices based on metal value)
Antique & second hand silver (prices based on article value)
Collectable silver
Bullion
We sell bullion as bars, coins and grain. The prices are based on weight and the day's market value. Please contact us for more information.
Antique & second hand Silver Exchange (prices based on metal value)
The great increase in metal prices over the past few years has led us to reassess the way we price a large selection of our commercial stock. The affected stock includes a large percentage of hollowware and flatware that we have traditionally sold to retailers.
We now sell this stock in one of two ways:
In bulk at just above the day's scrap price
In exchange for redundant stock or scrap metal
Our large stock of antique and second-hand silver that is priced according to its weight is changing on a daily basis and is open to view for all members of the retail and antique trade (appointment required). The photos show a selection of typical hollowware stock included within our silver exchange services.
Our flatware stock includes canteens, serving items, boxed sets, runs of 6/12 in a profusion of patterns, dating from the 18th to 21st centuries and made both in London & Sheffield.
One of the most popular benefits for retailers is to freshen up their stock: people bring in their unwanted stock and leave with fresh stock. In effect we are recycling the silver articles back in to the trade.
The types of items that we generally keep in stock as part of our silver exchange scheme include:
Bowls, dishes, vases, condiments sets, mugs, cups, jugs, sauceboats, napkin rings, inkstands etc
Trays and salvers
Tea & Coffee Sets
Flatware including canteens and serving items
Candlesticks & candelabra.
20-6-2019: Silver Prices
London Midday Fix - 19/6/2019
11.88
£/tr.oz
38.20
p/gm
UKSE 925 Buying Prices
100 to 500 tr.oz. (3 to 15kg)
10.16
£/tr.oz
32.68
p/gm
10 to 100 tr.oz. (0.3 to 3kg)
9.62
£/tr.oz
30.92
p/gm
We offer higher rates for more than 500 tr.oz. (15kg)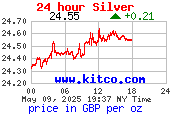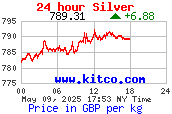 Trade visits
Trade visits We welcome appointments by antique silver dealers and retailers to view our ever changing stock of silverware. Please make an appointment by telephoning 01594 546328 or emailing enquiry@uksilverexchange.co.uk
You can visit to:
Sell scrap and redundant stock
Buy fresh stock
Exchange old stock for new.
UK Silver Exchange
The rising value of silver as a metal has had a huge impact on the antique silver market. The antique and aesthetic value of many articles has been overtaken by its intrinsic metal value.
Many antique and second-hand silver items are now valued by their metal content (i.e. weight) and their value will fluctuate in accordance to the day's silver price. We buy many antiques in this way, but will not necessarily scrap them as we use them as part of our silver exchange program.
Items of particular interest will be valued above scrap rates or on their own merits as an antique. Please see our antique silver pages for more information.
ARTICLE: What has happened to the antique silver market?
Antique silver has historically been valued according to its age, quality, condition and desirability. The quality aspect of these criteria includes workmanship and weight. The latter has now become the major determining factor for many pieces.
As the price of metal has increased, more and more items have been out-priced as articles. This means that the age, quality of workmanship, condition and desirability of objects are no longer the driving force of value – the weight is the most important feature. Lower down the price spectrum, for example damaged items, poor quality items, undesirable or obsolete pieces, or for items where there has been too much supply for the market demand, the increasing metal price soon overtook the article value. As the metal price rose higher, more and more items were overtaken by the metal price.
The chart below shows how the rising silver price has overtaken the value of a selection of items at different times/metal prices.
It shows that a historically difficult item to sell, such as a cigarette case was out priced early in the price rise (at £5/oz). An item, such as a salver, that was produced in many thousands and for which demand could not compete with the quantity in supply was outstripped at £10/oz. A good quality set of Victorian flatware was overtaken at £15/oz and even a 200 year old Georgian teapot was out-priced at £20/oz. As the price continues to rise we see superior quality pieces being swallowed up by the alternate price that can be achieved for scrapping.
It can be somewhat sobering to think that a useless cigarette case has an equal value in terms of £/oz as a fine quality Victorian teapot. However, on the positive side for owners of such goods, both items have increased in value because of the strong bullion market.
There is salvation to be had for antique lovers. Items that are particularly stylish, well made or of a superior quality can still be bought and sold as antiques. Even if five years ago they had a value of £15/oz, they have been able to maintain an antique value at or just above scrap price. Their value will rise and fall with the bullion market. Consequently, we will salvage such items from the scrap and give them the opportunity of a second life!
We actively encourage dealers and retailers to trade in their redundant antique stock for some fresh stock priced at just above scrap price. This will give a new look to display cabinets and shelves. Their redundant stock may well be just the right piece for another dealer and for us complete a satisfying process of recycling.
February 2012
Free Online Quote
Buying Price
-
We can provide instant quotes for your silver based on the current spot or fix prices, but these are subject to change according to variations in the market.
Silver received in the post will be priced according to the advertised website quote at the time of receipt. If you would prefer not to sell at that particular price, you must inform us before 10.45AM. Your items will then be kept until we are informed to sell (see stow away service).
Silver brought in by hand before 2PM will be priced according to the advertised current website prices.
Our highest prices are based on the LBMA midday silver fix and are only applicable for quantities in excess of 500 tr.oz. (15kg). These prices are tiered for levels of 500oz+ (15kg), 1000oz+ (31kg) and 3200oz+ (100kg). These higher rates are available to clients who either have metal account facilities with us or have delivered the silver in advance. The silver must be sold before 10.45AM and will be based upon the next midday fix.
VAT
-
If you are a VAT registered business then it makes sense to sell the silver as a metal. We pay out the full rate of 20% on top of the net value. In order to do this we require some form of suitable proof and a valid VAT number. The VAT should be declared in the same manner as any other full VAT sale.
Perversely, for antique dealers on the margin or global accounting VAT schemes, it is actually beneficial to sell metal rather than an article. If sold as a metal you will receive the entire sold value of the item and declare the VAT in your returns. If sold as an article, you would pay VAT on your profit and therefore actually receive less gross profit! So unfortunately there is a financial inducement for silver dealers to scrap, rather than deal in articles.
If you are a member of the public or a non VAT registered business, then we will pay out the net amount without the extra VAT.
Payment Terms
+
For quantities less than 100 troy ounces (3100grams) we generally pay out by return. For quantities over 100 troy ounces, we will make payment within 3 working days.
We will pay by cheque, unless an electronic bank transfer is preferred. For the former, please provide payee name and address. For the latter, please provide your address details and bank account details (sort code and account number).
New legislation is passing through the House of Commons to make it illegal to buy scrap metal for cash and without documentation. We are strong advocates of this new legislation and are therefore ready for it's introduction - we do not pay by cash and provide pay out sheets with all sales.
Metal Account
+
Metal account facilities are available for regular clients. Silver can be sold from this account at any time during normal working hours. An account can be topped up with fresh metal deliveries by appointment and sold when the price is right. Account holders will receive regular statements and have the ability to forward sell.
Forward Selling
+
Regular clients can forward sell in anticipation of the next fix before 10.45AM. This is a binding contract and if the silver is not in an existing metal account, then the silver must be received within three to five days depending upon quantity. Forward selling in excess of 3200oz (100kg) must be received within 24 hours.
Stow Away Services
+
As an alternative to a metal account we offer our unique and popular Stow Away service. This service will safeguard you against a sudden overnight drop in price. If you have posted goods to us and there is an overnight drop in price you can phone/email us before 10.45am and ask us to hold off selling. We store your silver in a temporary metal account until such a time that the price is right for you. All you then need to do, is phone/email us before 10.45am on the day you wish to sell.
The Stow Away Service is only available to trade clients for quantities in excess of 100tr.oz or 3kg.